Hello fellow readers and bloggers. A very good morning or afternoon or evening, which suits the time you must be reading this. Since this is my first post so far as this website goes so I will just take a few moments to give you, my precious readers, an introductory note, especially about why I chose this specific base theme. You might tend to think now – 'oh gosh! Here comes another guy who sings blind eulogies of Mother Earth' . I would say "No!" I was inspired by the atrocities of life more. It's all a matter perspective, as a wise man once said, and how you look at it. We, who work hard for our better future, are always confronted by the hardships, negativity of life. But I feel, we can always take some time out of our breathless schedule, take a deep breath, and think – 'Come on. Its not so bad after all.' There is beauty in all of us and in all aspects of our world. We just have to be calm enough to see it, appreciate it and feel blessed by it. Like you are doing now while you are reading it. I hope to reach out to all of you and make my feelings resonate in yours.
"You may hate me for a 1000 reasons, but I will always give you a 100 facts to love me for."  –  Anonymous
I wrote the the headline in Spanish because the small town I am going to tell you guys today about is located near the east coast of Spain in the province of Valencia. The beautiful, cozy town of Buñol, a traveller's heaven to cut long story short. It's most well-known or rather popular for the traditional La Tomatina festival. I will be briefing about it shortly. First let us delve into the historic background of this Spanish town.
Archaeological evidence indicates civilization in Buñol going back 50,000 years. The small town is a working town of approximately 9,000 residents, involved in industry and agriculture; producing carob, almonds, citrus fruits, olives, grapes and tomatoes. The municipality has an area of some 112 km². It lies along the majestic Buñol River and is surrounded by the beautiful mountain ranges La Sierra de Las Cabrillas, la Sierra de Dos Aguas and la Sierra de Malacara y Martés. 
One of the main spectacles and tourist attraction of Buñol is the Castillo de Buñol (Castle of Buñol).
Here, let me give you a short historic background of it.
The castle was built in the early thirteenth century under Arab rule. Buñol and the surrounding region were then joined the Kingdom of Valencia in the middle of the thirteenth century, during the conquest of Valencia by Jaime I. From June 1304 to 1415, the castle passed from hand to hand between the Crown of Aragon and the aristocracy, through donations and purchases successive then to the king Alfonso V of Valencia, who then sold his grand chamberlain Berenguer Mercader.
Presently, the castle sees a considerable amount of visits stands towering over the town with its own century-old royalty. The Castle of Buñol is quite interesting and the courtyard is lovely and very often in the summer around May or June it is the host to the Spring Concerts by the town's two musical societies: "El Centro Instructivo Musical La Armónica de Buñol", popularly known as "Los Litros"; and "La Sociedad Musical La Artística de Buñol", known as "Los Feos", the local philharmonic bands. There is also a medieval fair in the castle grounds in June. Most of the music events are free and excellent and the medieval fair is a place to really have fun with games for the children and stalls selling sweets, toys, soaps, jewellery etc.
Parque de San Luis (in the picture above) is a public park  and perhaps the favorite place for most locals as well as tourists. It offers any nature lover a gorgeous views of the river due to its location on the western part of the city. It is the venue for numbers of cultural and festive events. Also there is a chapel and an open air auditorium close to the park.
Cueva Turche (in the above picture) is among the most excellent natural tourist spots in the city. It is the place where one finds a cave, pool and a waterfall. Perfect for selfie-lovers!! Lol! The beauty of the waterfall can be best enjoyed during rainy season and is also one of the best places for a nice summer afternoon bath and locals are often seen flocking here to enjoy a perfect family weekend.
The Masonic Cemetery is very unique among every other unique things about Buñol. So it surely does deserve a special mention. It is, as the name suggests, a cemetery where one comes across more than 200 graves, all of them belonging to Freemasons, opened in 1886. Buñol has for many years been a town that has had a strong left-wing and progressive population. The cemetery was the project of the then Mayor and freemason, Joaquín Ballester, whose own tomb is located in a prime position facing the other tombs and situated as if on the podium of an orchestra conductor. It is thought that the design of the graveyard is supposed to represent the Temple of Solomon. Furthermore, the second entrance to the cemetery actually has a masonic engraving above the threshold.
Apart from what I mentioned, there are a lot other attractive features of this "not-so-ordinary" town of Spain and this town is the location for a list of renowned festivities annually which includes a Film festival that unites communities from across the nation under one sky.
But Buñol witnesses its largest number of visitors during the festival of La Tomatina, so much so that demographics suggest that the city population tends to get more than thrice of its normal average population of 9,000. This festivals reputation screams of a special mention not only when we speak of Buñol in specific but also when he brief about Spain in general.
La fiesta de la Tomatina, or tomato party takes places once a year in a northern Spanish town called Buñol in Valencia, since 1945, on the last Wednesday of August every year.
It's origins are not so certain and there are contending versions. One of them says that there was a really bad musician who used to play in the town square. The locals, fed up of him, took some tomatoes from a green grocers that was nearby and threw them at him. The story goes that not every one hit the mark but someone else's head, and somehow that derived into a tomato war.
The other theory tells of a few young men who tried to mix up in the town's religious procession and one of the men who were in the procession ended up on the floor. When he got up he started throwing punches all around and his neighbors took some tomatoes to throw at him in self defense.
Despite its fame and stature, the festival is in fact a short-lived (but very crowded and messy) affair. It begins (rather incongruously) at 11 am when a ham is placed on top of a large and greasy pole in the town square, and the tomato fight can begin only when someone is dexterous enough to clamber up and grab this meaty prize from its perch. Usually, it lasts for an hour, after which the whole town square has been covered with tomato paste.[3] Fire trucks then hose down the streets and participants often use hoses that locals provide to remove the tomato paste from their bodies. Some participants go to the pool of "los peñones" to wash. Afterwards, the village cobblestone streets are completely clean due to the acidity of the tomato disinfecting and thoroughly cleaning the surfaces.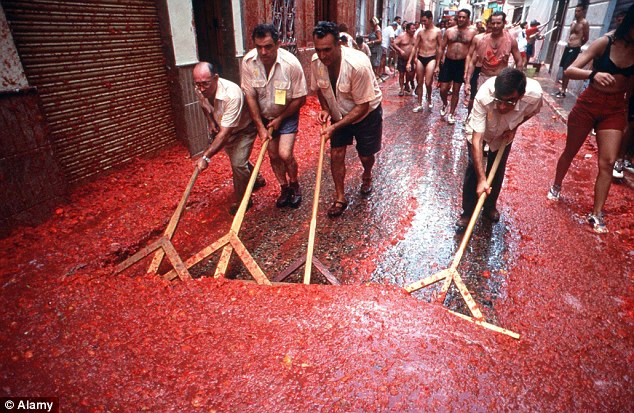 In short, Buñol is a real epitome of beauty.
So when you plan your trip to Spain the next time, make sure to add this town to your visit list!
I hope you enjoyed reading my blog. I will soon be posting my next blog where I will be writing about another such unique location on the face of this earth which is worth the adoration.